Fairs in Japan
We have been assigned by the Japan Management Association (JMA) to take applications in Germany for the Fairs listed below. Feel free to contact us with questions or to get detailed information about Fairs. It can be arranged to organise a German community exhibit on sufficient interest.
November 20 – 22, 2017
INCHEM is the largest Fair in Asia for the fields of chemical industry and process engineering, environmental engineering in the processing industry and innovative materials.  Subjectwise it is comparable to the German ACHEMA.  INCHEM  takes place every two years.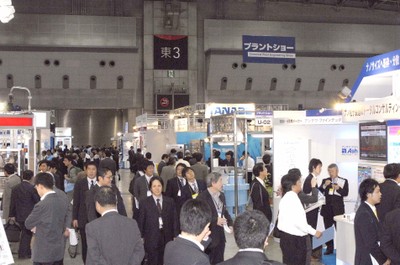 Refer to http://www.jma.or.jp/INCHEM/en/
October 26-28, 2016
"SMART ENGINEERING TOKYO", organized by Japan Management Association and Society of Chemical Engineers, Japan, is the exhibition supporting to improve and achieve "Energy Saving", "IT adaptability" and "Environmental Protection" for Factories, Plants and Society's Infrastructures. Improving the energy efficiency, introducing IT technology and reducing environmental load for the industries has become a pressing issue. Especially, achieving to decrease of energy consumption is much important because the energy consumption of factory and Plant's facilities is way larger than it of general offices. However, improving the efficiency requires high expenses and taking long time. For those reasons, in fact, renewals of those industries facilities have not progressed.
Refer to http://www.jma.or.jp/set/en/ .
October 26-28,  2016
JHBS is an industrial fair concentrated on solutions and equipment for smart house and smart community in building industries. It will also have concurrent special programs to solve problems with designing, production readiness .
Refer to http://www.jma.or.jp/homeshow/en/ .
ICH Industrieanlagen
Consulting & Handel GmbH
Bleibtreustr. 6, 10623 Berlin, Germany
Tel: 030/3100 7790
Fax: 030/3100 77919
Email: mail@ichconsult.de