Kyowa Seiko Co., Ltd. at the Compamed 2016 in Düsseldorf
Kyowa Seiko's products answer highest demands for sterility. The company developed a comprehensive system for producing immaculately hygienic plastic containers and packaging. Utilizing the company's Clean Room for all steps from injection moulding to assembly, inspection and packaging of medical devices and cosmetic products, quality is assured in production and inspection by highly skilled employees trained to highest standards.
15-part reaction cell for blood analysis – chemical stability as well as highest degrees of transparency are required.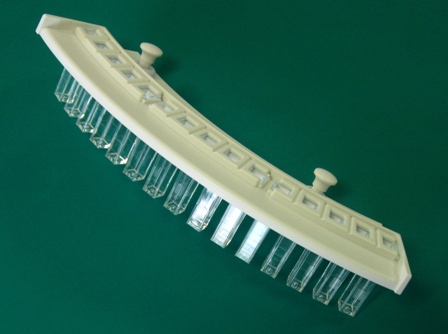 Being a trusted partner of more than 40 manufacturers from outside of Japan, Kyowa Seiko provides re-inspection and assembly services for overseas products prior to distribution in Japan to reassure that they are up to made-in-Japan quality standards. After inspection the products are hygienically repackaged and readied for distribution with the company's high standards and credibility acting as a hallmark of quality towards Japanese customers.
Have a look at this short video for a quick glance at Kyowa's technology and its production.
Would you like to learn more about the company's technology or arrange a meeting with them at Compamed 2016 in Düsseldorf? Then let us hear from you and contact us.
Kyowa Seiko Inc.
2 Chome-1-19 Suwa Iwatsuki-ku, Saitama-shi, Saitama-ken 339-0007, Japan
TEL: +81-48-794-5575
FAX: +81-48-794-6636
URL: http://www.kyowaseiko-co.jp/