Origin Electric Co. Ltd. at the Cluster Symposium 2016
| | |
| --- | --- |
| Origin Electric Co. Ltd. | |
Origin Electric Co. Ltd. is located in Saitama prefecture and specialized in welding machinery. Since 2005 their Mechatronic Division develops devices that improve functionality and productivity of custom products. Their core technologies are the following:
– precision dispensing and coating
– bonding of resin
– vacuum soldering
– flux-less soldering technologies
In Ingolstadt Origin Electric Co. Ltd. will present two of their cutting-edge technologies: its Mobile Display Bonder (MDB) and its vacuum reflow soldering technology.
Mobile Display Bonder
Origin's Mobile Display Bonder (MDB) is an ideal solution for the production of various kinds of displays: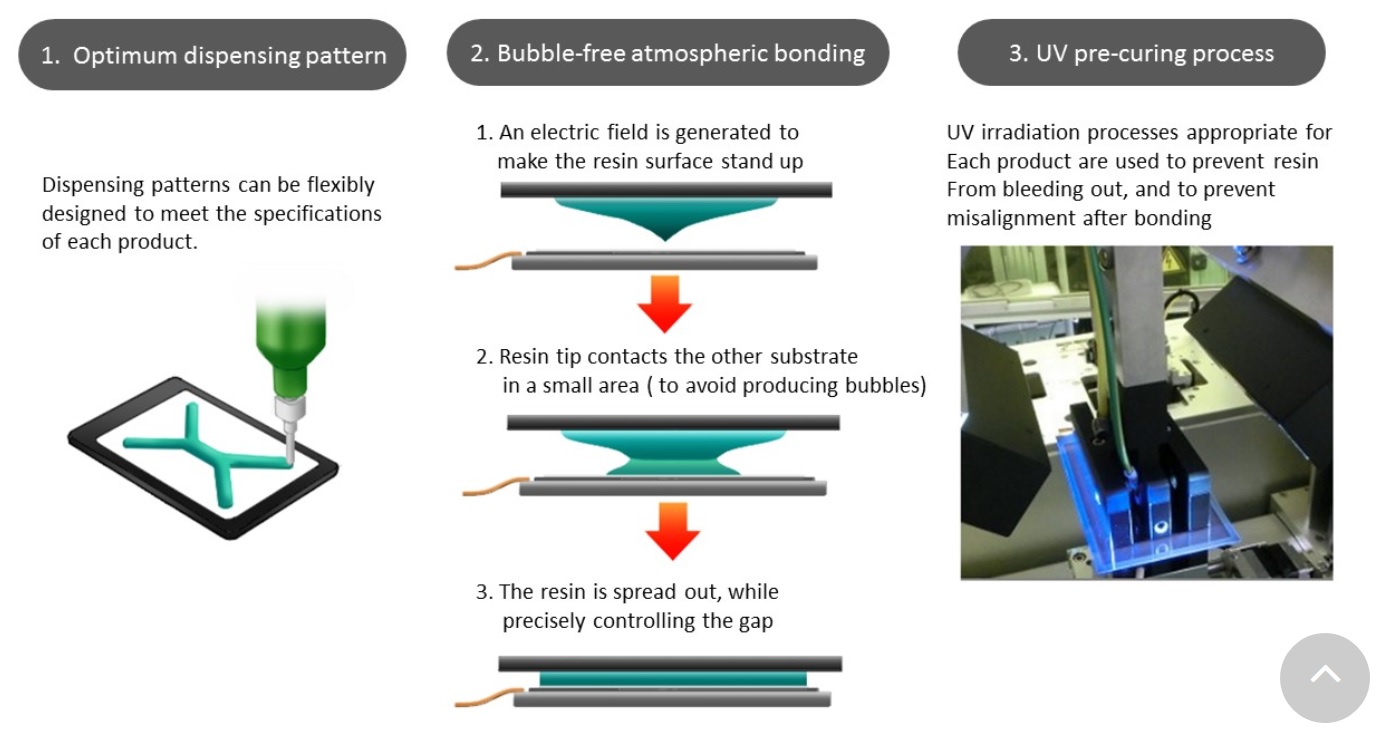 OCR Atmospheric Bonder

Model: Mobile Display Bonder "LC4"

The LC4 is an automated bonding machine for small displays with a certain level of rigidity, such as cover glasses, glass touch sensors and LCD cells. Optical clear resin (OCR) dispensing patterns that can be optimized for each product, along with Origin's unique application method which is based on electric voltage and high precision gap control realize a stable, bubble-free atmospheric pressure bonding.

Origin's Mobile Display Bonder

Vacuum Reflow Soldering System using formic acid
Origin's Vacuum Reflow Soldering System combines the possibilities of formic acid reduction with a compression process for a fluxless formic reflow soldering method. This not only renders the use of solder flux and the removal of flux residues unnecessary, but also prevents voids and flux spillage at the same time.
In comparison to conventional approaches to soldering in reductive atmospheres that utilize hydrogen, using formic acid for reduction allows lower processing temperatures while improving the wettability.

Additionally, Origin's special compression process effectively prevents the forming of voids and flux spillage during the vacuum soldering better than conventional methods.
Conventional approaches often utilize a defoaming process: Solder is melted under atmospheric pressure and then a vacuum is created which creates voids or might lead to spillage of flux or solder. But Origin's approach is different: After solder is melted under a vacuum a compression process will take place under atmospheric pressure which compresses any voids inside the solder.

The system depends only on a minimum usage of formic acid which after the process is completely eliminated.
While many conventional approaches struggle to remove all of the formic acid from the exhaust, Origin's system completely decomposes the formic acid before venting any exhaust.
Entry-level model: Mini


The Mini is Origin's entry-level model which is particularly suited for R&D applications. Its simplicity makes it the ideal device to get started with vacuum reflow soldering and to experience first hand all the benefits that fluxless formic acid technology has to offer in a lightweight and compact package. Adding optional specifications gives the Mini even more versatility for an even wider range of uses. 
Batch type model: VS2


The VS2 is a compact batch module equally suited for R&D applications as well as small scale production. With its automatic workpiece transfer mechanism inserting and removing workpieces become both easy and convenient making the VS2 an easy-to-use tool for a vast array of applications.

Inline type model: MP2


The MP2 is Origin's answer to mass production needs. Two separate processing chambers for heating and cooling and the large dimensions of the processing area (W380 x D310 x H100mm) make it suitable even for mounting larger workpieces.


Overview on Origin's Vacuum Reflow-Soldering System


Catalog of Origin's Vacuum Soldering Systems
Detailed description of Origins technologies and company profile:
http://www.origin.co.jp/eng/business/mechatronics/
Visit Origin Electric Co. Ltd. at the Cluster Symposium (20.-21. September 2016) in Ingolstadt!
You want to make an appointment with Origin Electric Co. Ltd.?
Then please send a mail to: mail@ichconsult.de
Origin Electric Co. Ltd.
Meiji Yasuda Seimei Saitama-Shintoshin Bldg. 13F
11-2 Shintoshin, Chuo-ku,
Saitama-shi, Saitama-ken,
330-6013, Japan
www.origin.co.jp/eng
最終変更日時

2016年8月25日11:06 PM